The Peru 20
Our trek to The Sun Gate, Machu Picchu.
After a fabulous breakfast at Caffi Cwtch and a lovely send off from staff and family at Nightingale House, we set off for London Heathrow Airport.
We were together at last, one group heading off on the challenge of a lifetime.
Just coming out of Wrexham, I thought it would be good to read out a letter that one of our day care patients had kindly written to the group. A letter of thanks and good wishes for our journey ahead. Our patient describes how, like us, they too are on a difficult journey, although of a very different nature.
We were more determined than ever before, we were going with the knowledge that our fundraising is helping people at their most vulnerable. This is the reason why this week is so important, raising funds to enable the excellent work of the hospice to continue.
We arrived at Heathrow with plenty of time. Check in first then next stop security. A long 3 hour queue but we had plenty of time – nothing worse than rushing to catch a flight.
We finally meet at the bar for a celebratory drink (well, it has been over two years since we booked – we can hardly believe this journey is actually happening), before catching the last flight out of Heathrow Terminal 2 at 22.40.
A full flight but we managed to mostly sit together. Full of anticipation but mostly excitement, it's hard to sleep but we manage a few hours – helps to pass the 10 hour flight time.
Then and just like that, here we are… our flight has just landed in Columbia where we will shortly be catching a connecting flight to Lima, Peru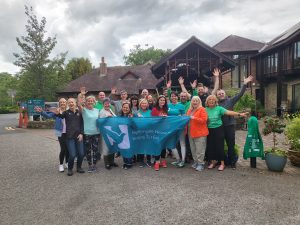 DAY TWO
Bogotá airport was quiet but not surprising given the time at which we landed.
Spotlessly clean and efficient 👏👏
Now on route to Lima, Peru, a little jaded, it's a long trip but time is passing quickly.
We are all looking forward to landing in Lima where we will be reunited with our cases 🤞 and we will meet our hosts who have kindly arranged lunch at a local hotel, rather than us have to wait at the airport for 8 hours before our connecting flight to Cusco.
One of our group unfortunately did not receive her case. We later found out it never left Heathrow Airport and won't be with her before she treks the Inca trail. The group rallied round offering what they had to ensure she was kit ready. Hats off to this lady, who's taken it all in her stride.
Lunch was good, but the group are tired. It's now been over twenty hours since we left Nightingale House, one more flight and we will land at Cusco.
The short one hour flight from Peru to Cusco went quickly.
We landed in Cusco where we were warmly greeted by Omar our guide.
Omar told us we will learn beautiful things and see amazing sites.
We settled into a lovely hotel in Cusco, we were briefed on what was going to happen the next day and we went for dinner. Not all the group made dinner, some wanted to sleep and others felt a little queasy, so used the opportunity to rest before our acclimatisation trek the next day.  
Today was an important day.
We needed to understand how altitude would affect us as individuals.
Unfortunately two of our group felt the affects of altitude quite severely. Nausea and headaches being the main symptoms but it's fair to say the majority of the group didn't feel 100%. A mix of travel, tiredness and impact of Altitude were taking its toll.
Our trusty Doc Tom was on hand to offer advice and medication. We thank him for getting us through the day.
DAY THREE
We set off on our acclimatisation trek to the archaeological site Sacsayhuamán, which can be spelled many different ways, is a citadel on the northern outskirts of the city of Cusco, Peru, the historic capital of the Inca Empire. The complex was built by the Inca in the 15th century, particularly under Pachacuti and successors. They built dry stone walls constructed of huge stones.
Sacsayhuaman (or Saqsayhuaman) is one of the most impressive Inca constructions in the City of Cusco in Peru. But it is also one of the most mysterious ancient constructions on the planet. Recently a kind of writing more than 30 thousand years old was discovered Dec 7, 2018
After this we went on a short bus journey where we now over three times the height of Snowdon. This could perhaps explain the fuzzy head!
We then trekked to our spot for lunch, passing through beautiful countryside.
A beautiful lunch was served outside in a makeshift camp. A lovely opportunity to meet other members of our crew, our trusty chefs! After lunch we were given out kit bags to transfer our Inca trail trek kit into. 6kg including sleeping bags.
We set off after lunch until eventually we finally reached a point on the Inca trail. We reflected and carried on our trek.
We watched locals cook their Sunday lunch over fires, potatoes and local delicacies roasted outside where families gathered. We waved and they greeted us warmly. This is starting to feel like a real journey of discovery.
Arriving back at the hotel, we had a few hours to pack our kit bags before changing for dinner.
A short briefing from our fabulous Scottish guide Dale. Tomorrow is the big one when we officially enter the Inca trail.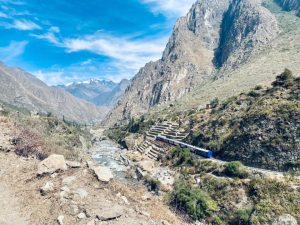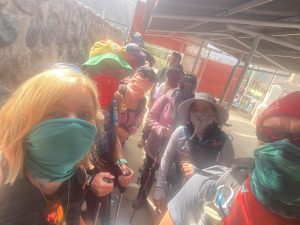 DAY FIVE
⭐️⭐️⭐️Update Nightingale House Inca Trail Trek.
Shortly after this photo was taken, Omar our beautiful guide held a minutes silence for all those lost across the world from the pandemic. We closed our eyes and remembered.
With tears streaming down his face, this incredibly spirited man spoke about the reason why we are trekking and why EVERY person in this group conquered the peak you can see behind us in this photo. The highest point on our trek at 4.200m Dead Woman's Pass.
These photos were taken at an archaeological site called a Tombo (meaning Inn – a welcome place where Waiky (porters) could eat and stay before continuing on their journey).
To our friends and family back home, we are all safe, we are all well and we are all incredibly grateful for your support. For a moment we have connectivity with the outside world.
Tomorrow we will reach the Sun Gate Machu Picchu as one group.
Ordinary people doing extraordinary things.
❤️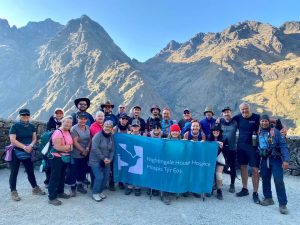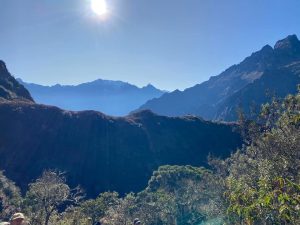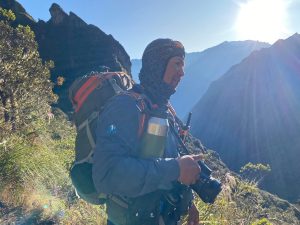 DAY SIX
Day Six – Arrived at Sun Gate.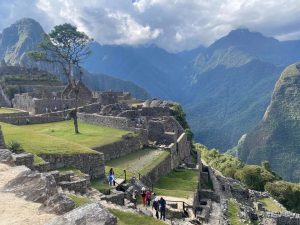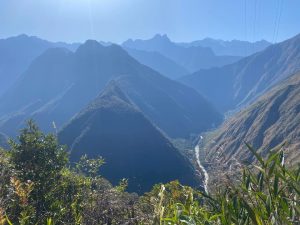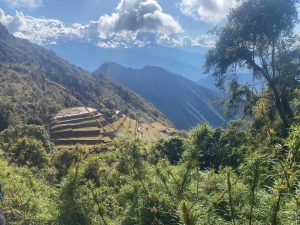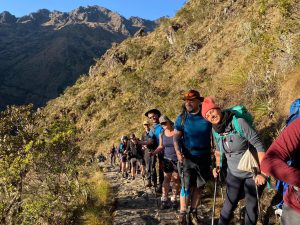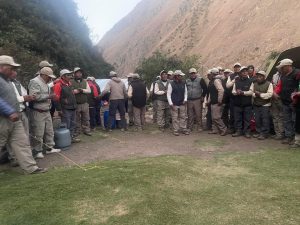 If you would like to help raise funds please visit our Just Giving page.
*The Just Giving page says 2020 because that is when fundraising began for the trek.