Get involved in this year's Summer Super Draw for a chance to WIN £3,000!
3 Fantastic Prizes to be won!
1ST – £3000
2ND – £2000
3RD – £1000
Our Super Draw is a fun way to help fund our work whilst making a huge difference to patients living with a life-limiting illness and their families across a wide area stretching from Wrexham, Flintshire and East Denbighshire to Barmouth and the border towns including Oswestry and Whitchurch.
Buying tickets for the draw online is a great way of supporting your local hospice without having to leave the house during this challenging time!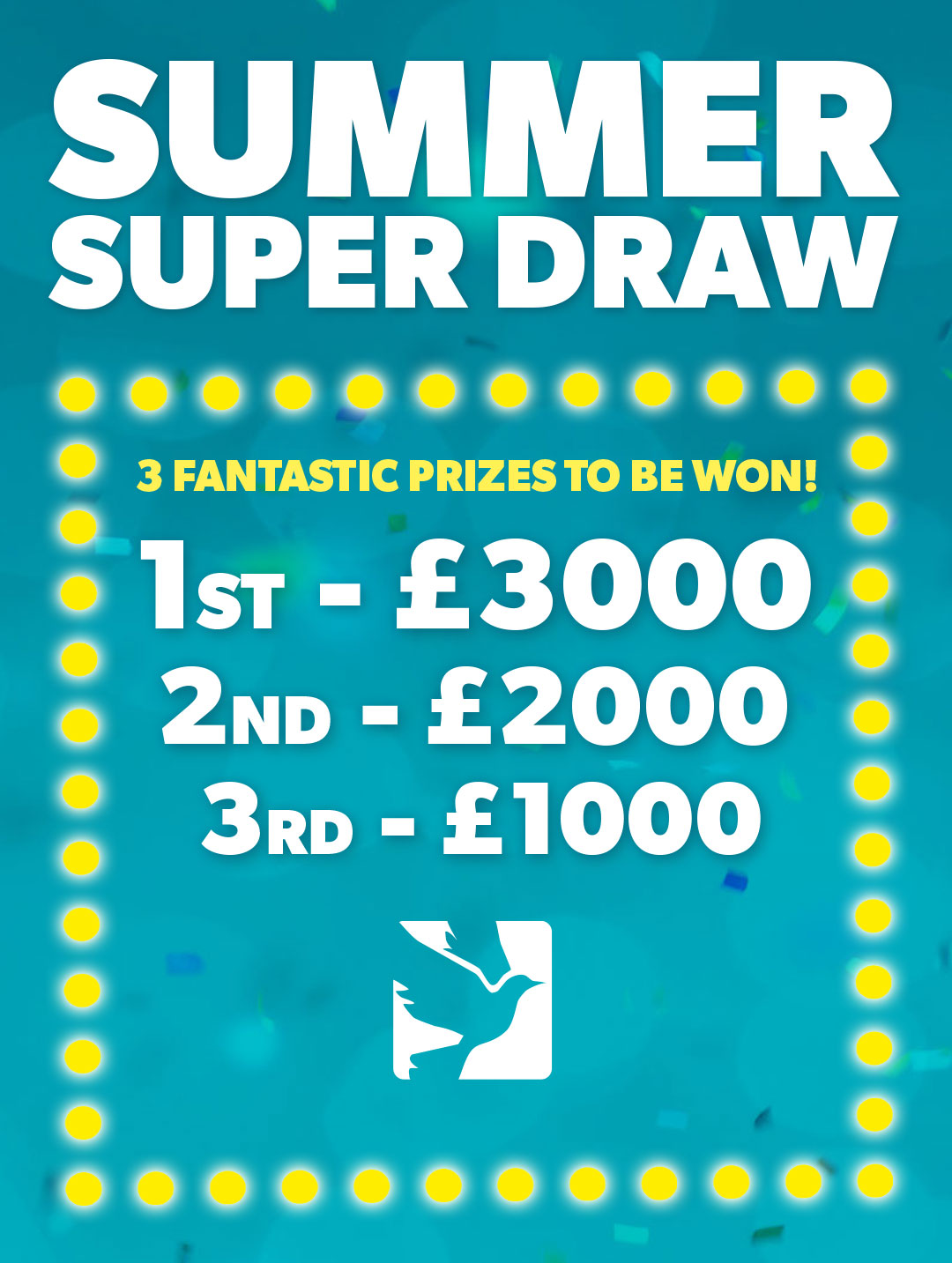 General Rules
Nightingale House Summer Draw 2022 is open to all mainland Great Britain residents over the age of 16 (this excludes Northern Ireland, Isle of Man, Channel Islands and British Forces Post Office addresses according to the Gambling Act 2005 regulations)
Purchasing a ticket means you are confirming you are 16 years of age or over. No tickets should be sold to, or purchased on behalf of, a person under the age of 16 years.
A ticket unknowingly sold to, or purchased on behalf of, or for a person under the age of 16 he/she will be exempt from the draw and will forfeit his/her prize and their entry money will be returned to them.
Winners might be asked if they wish to take part in any Nightingale House Hospice PR and promotional activity.
Paid employees of Nightingale House Lottery are not eligible to enter the Summer Draw 2022.
The raffle tickets are printed by Threapleton Printers and are distributed via Nightingale House Hospice newsletter by Precision Marketing, with any leftovers brought back to the Hospice to be sold in the hospice and at fundraising events.
Nightingale House Hospice is registered with the Gambling Commission to operate the draw, under licence number 005112-N-304077-015 and ancillary remote licence 005112-A-330219-002.
The Summer Draw will be combined with the weekly lottery and will be drawn on Thursday 23rd June 2022. The draw will be made utilising a Random Number Generator (RNG) that has been tested and approved by an independent, Gambling Commission approved, third party company.
All proceeds from the raffle will be used for the charitable purposes of Nightingale House Hospice.
Summer Draw 2022 Rules
All ticket entries must be received by 11.59pm on Monday 20th June 2022.
Any money for tickets received after 11.59pm on Monday 20th June 2022 will be treated as a donation.
All online Lottery registrations must be received by 11.59pm on Sunday 29th May 2022.
All paper Lottery registrations must be received by 11.59pm on Tuesday 31st May 2022.
No more than 50 tickets can be purchased per person for the Summer Draw 2022. Nightingale House Hospice takes no responsibility for late postal delivery.
The draw for the Summer Draw will take place on Thursday 23rd June 2022. Winners will be notified by telephone; a cheque will be posted to them no later than two weeks after the draw date.  All winning numbers will be available on the Nightingale House Hospice website and on social media. There are no alternatives to any prize and no interest is payable.
To request additional tickets up to the maximum of 50 per person or about other ways you can support us – you can opt out of receiving post or change your contact preferences at any time by calling us on 01978 314292 or emailing info@nightingalehouse.co.uk
Nightingale House Hospice is committed to protecting your privacy and that the data we gather, and hold are managed in accordance with the current data protection legislation. Please see our privacy policy for more information. If you would like further information about raffles and lotteries please go to www.gamblingcommision.gov.uk
Get In Touch
For more information on the Summer Super Draw please call 01978 316800 or complete and submit the form below: